ARMENIA 2018
In August 2017, our Granddaughter Savannah, confirmed she will be travelling to Armenia with her Rose and Alex Pilibos eleventh-grade classmates in May 2018. We therefore immediately planned our family trip and purchased our airline tickets revolving around Savannah's travel dates. Other family members eagerly asked to join us.
Beginning April 2018, we followed the news due to political activities demanding important changes in Armenia's leadership.  May 01, 2018 and May 8, 2018 were very important dates, when past president Serzh Sargsyan was ousted and Nigol Pashinian was elected by Armenia's Parliament as Prime Minister.  Armenia's "Velvet Revolution" had succeeded without any bloodshed nor problems, bringing joy to most Armenians around the world.
On May 25, 2018, my wife Shoushan, elder sister Shake and I left for Armenia. In Yerevan we stayed at a cozy boutique hotel in the center of town, Diamond Hotel managed by our good friend Igor Anisimova.
This year, as Armenia was celebrating the 100th Anniversary of our Republic's Independence, thousands of visitors from all over the Diaspora visited Armenia. Yerevan was full of tourists, Armenian and non-Armenian. On May 27 and 28, we participated in several events and concerts held in the Republic Square, as well as in Sardarabad, Pash Abaran and other parts of the country.
On May 29 we traveled to Gyumri to attend the Christening ceremony of our friend's son, Vahan, at Yot Verk Church ("Seven Wounds" of Jesus Christ), a beautiful church in the main square of Gyumri. Followed with a dinner reception at one of Gyumri's very well-known fish restaurant "Cherkezi Dzor".  Among the invited guests in addition to family, we saw some old friends from the USA. It was an excellent gathering and opportunity to mingle with old friends and make new ones. While in Gyumri I visited the Berlin art Hotel a small boutique style hotel with a very nice and helpful staff.
On June 01, Savannah's class trip was over and she joined us, her grandparents and great aunt and moved into Diamond Hotel with us.
On June 02, we were invited to attend the opening night of "The New Names" International Festival of young musician-performers at the Komitas Chamber Music Hall. We were the guests of the Anisimova family to watch their twelve-year-old daughter Asya Anisimova perform on her violin.
She did an excellent job. Several young performers with different musical instruments from other countries also performed. We enjoyed Asya and all the other young musicians.
 On June 04 Savannah was invited to attend a local wedding at St. Sarkis Church in Yerevan followed with a celebration party in a banquet hall in the city of Abovian. She enjoyed all the Armenian traditional activities including releasing of white doves, the Armenian "Dhol and Zourna" music, the dances, the lavash on shoulders of the newlyweds, honey, the khorovadz dance and many other traditional Armenian wedding customs.
On June 06, Savannah and I visited the American University of Armenia.  We met with Ms. Arina Zohrabian, director of Admissions and Ms. Lilit Hovhannisyan, the Admissions Counselor. We were given a thorough tour of the facilities including several classrooms, the auditorium, lecture rooms and the cafeteria.
They told us about their summer program and asked us to encourage all college bound students to consider the AUA summer program which is a fun learning experience, that is affordable with all academic credits transferrable to US universities. American University of Armenia Promotional Video . For additional admissions information contact admissions@aua.am  .
June 07, was another educational day. Savannah and I had an appointment (yes, you need an appointment) to visit the TUMO Center for a one-hour tour.
Lena, our escort at TUMO, showed us the five major sections of this very unique creative technologies learning center. Over ten thousand youngsters between the ages of 12 to 18 take advantage of learning the latest computer technologies, including computer science, film and music, creating, editing and other creative computer technologies all for free. In addition to the Yerevan Tumo Center there are several other locations for the Tumo Center, such as in Dilijan, Gyumri, Stepanakert and coming soon in Koghb and Masis.  For details visit a YouTube video at                             :https://www.youtube.com/watch?v=7N6t6yuv95Q
In the evening we attended Hovanness Toumanian's "Classic Tales" at Henrik Malyan Theater. At the end of the show we had a wonderful opportunity to take pictures with some of the actors including Ashot Yedigarian, Gayane Avetisyan, Samvel Krikorian, Hayk "Hayko" Hakobyan, Anna Harutyunyan, Gevorg Hovakimyan, Hayk Sargsyan, Ara Sargesyan, Samvel Topalyan, Astghik Abajian among others
On June 08 more members of our family arrived to Zevartnots Airport. We met our daughters Lena and Lisa, their friend Seta and her daughters Elizabeth and Mary as well as Shake, my nephew Sahag's wife.
We greeted them with flowers and transferred
them to Diamond Hotel, where the management had placed welcome baskets of fruits in each room.
Delicious apricots, apples, cherries and plums.
Our group was now 10.
The following is a day by day itinerary of our tour, including recommendations:
All our tours were arranged and operated by Hyur Service and due to many repeat visitors and also first timers in our group including seniors and active teenagers, I had asked the assistance of Marianna K. Deputy Director of operations to help plan our tours. She is professional and very detail oriented. She did an excellent job for which we thank her.
During all our prearranged private organized tours we had an English-speaking professional guide, a very pleasant and knowledgeable young lady, Mary Mirzakhanian. Our excellent and very safe driver Arayik (Ara) Grigorian made sure all the stops are done safely and as close as possible to the entrance of the venues. We thank both of them for making our visit a success.
Sat. June 9, 2018   was a day to unwind, stroll the streets of Yerevan and get to know the city.
We changed dollars to Dram (money exchange or bank). The rate of exchange was $1.00 to 482Drams. The easiest way to calculate 1000 drams is about two dollars. When exchanging our money, we asked for smaller 1000 drams because they were needed when stores, merchants or taxi drivers did not carry smaller change. We visited Vernissage the open-air flea art market; walked, shopped, enjoyed the scenery and the first timers of our group became acquainted with the beautiful streets of the Center of Yerevan.    Our welcome dinner party was at Derian Restaurant (with an Armenian singer and music).
With our group of 10 plus some local friends whom we invited we had 24 people at our dinner party. We enjoyed the delicious food, listened to the beautiful songs and danced until the wee hours.
Sun.  June 10, 2018 at 9:00 AM sharp our tour departed to Ashtarak where we visited The Garemeravor Church, had coffee and Ice cream at Pascal and Diodato Garden Restaurant owned by Gourmet Dourme Chocolate Factory.
Onto Sardarabad Memorial Complex.
Afterwards our tour bus drove us to the village of Margara to enjoy a late lunch hosted by Lena at her friend's home at the border of Armenia/Turkey.  We also enjoyed sweet mulberries (tout) apricots and other seasonal fruits picked from their own garden. On our way back to Yerevan we had a short stop at the Zvartnots Cathedral remains. In the evening we met with some of our local friends and had dinner and drinks at Martini Royal at the Aznavour Square.
Mon. June 11, 2018 at 9:00 AM we departed to Echmiadzin (Mother Cathedral) with stops at St. Hripsime and St.  Gayane churches.
At each church we lit candles, prayed for good health, love and peace. We also visited the souvenir shops and tasted the delicious apricots from the trees in the church gardens at St. Hripsime. We had a lunch stop at a garden cafe in Echmiadzin after which we returned to Yerevan with a tour of the Ararat Brandy Factory  to taste test and savor delicious brandies/chocolates (guided tour and entrance fees were included – reservations are a must). 
Ararat Armenian Brandy
Diner was at Sherep Restaurant and our friends Hagop, Taleen and Robert Khachadourians (from Los Angeles) joined us for dinner. http://shereprestaurant.com   Sherep is a very busy and popular  restaurant located on Amirian Street right next to Armenia Marriott Hotel. Reservations are a must.  The  food is delicious, the portions are large and prices are very reasonable. Later that evening part of our group went to El Sky Bar roof top for after dinner drinks, located near the Hrabarag on 9 Grigor Lusavorich Street,
Tuesday June 12, 2018 at 8:30 AM sharp we departed to Khor Virab visiting the deep pit where St. Gregory The Illuminator spent 13 years before Christianity was declared the official national religion of  Armenia. Onto Noravank
followed with lunch at Lchak – a riverside restaurant. Although it was raining we had a great luncheon with a beautiful view of the river/lake and delicious Armenian food. We stopped for a panoramic view of the City of Goris.
and of course, we made several other stops to take unforgettable photographs of prairies of beautiful red poppy fields and green lush mountains.
Then onto the Artsakh border and arrived in Stepanakert. We checked in to our hotel called Vallex Garden located in the center of town.
We enjoyed a late dinner and celebrated Shoushan's birthday with cake and champagne at Bostan Restaurant.
Wed. June 13, 2018 at 8:30 AM – after breakfast we visited the Stepanakert local market (shouga) where we bought fresh fruits, home-made vodka, and watched how the "shingalov hats" (an Artsakh specialty) is made.
Of course, we bought some to taste.  The Shingalov hats is a type of flatbread stuffed with finely diced herbs and green vegetables.   We had a photo stop at the Tatik-Papik Statue
and purchased handmade souvenirs from the base of the park; next we drove onto Dadivank Monastery where I was supposed to meet with Der Hovhannes Hovhannissyan,                                    The priest, who after rebuilding the Kantsasar Monastery was asked to move to Dadivank and help renovate it. When we arrived, there were several official cars parked and several security and escort personnel who informed us that HE Armen Sarkissian, the new President of Republic of Armenia, was visiting and meeting with Archbishop Barkev Martirossyan and that in a few minutes we will have a chance to greet him in person.
Der Hovhannes introduced our family and group to the President, who took time to talk to each of us individually. He especially enjoyed talking with Savannah who he had met a couple of weeks earlier when he hosted the Pilibos 11th graders at his quarters. H1 TV station recorded our impromptu meeting and it was aired that same evening on the H1 news.
Lunch was in Vank Village in the restaurant near the stone carved lion;      then we drove to Gandzasar Monastery. While some of the group went inside to light candles and pray others enjoyed the Horseman Greesha who sang and danced for us with his horse.
We continued onto Shushi, visited the "Ghazanchetsots Church, including the acoustic chamber under the altar, where we sang beautiful Armenian songs.
We hiked to Hunot Canyon to see the breathtaking view of this real deep canyon, where on the night of May 08, 1992,  Armenian heroes had climbed up to Shushi from Karin Dague Village and liberated Shushi.
This was the first significant military victory by Armenian forces during the Nagorno-Karabakh War.
A special Dinner was arranged at our hotel, where we were privileged to meet one of Armenia's great music teacher, composer, producer and TV personality, Arthur Grigorian.
Hundreds of famous Armenian singers are products of his teachings. He was dining with HE Narine Agabalian,
the current Minister of Education and science and youth affairs of Artsakh, and the past Minister of Culture. Mr. Grigorian introduced us to his friends and I had the opportunity to briefly explain the "Visit Armenia, It Is Beautiful" project, its mission and its accomplishments to all present. They were interested and encouraged the project. Breakfast at Vallex Garden Hotel.
Thur. June 14, 2018 At 8:30 AM our Tour departed Stepanakert. We stopped at Khndzoresk for  a Panoramic view of the caves and the hanging (swinging) bridge.
Some of our group adventurers went all the way down and crossed the 160 meters bridge to the cave village. Some of the larger caves were inhabited as late as the 1950s. Onto Tatev Monastery where we welcomed the rest of our family (My nephew Shahe, his wife Yeran and 13 years old son, Manoug). My sister Annie who surprised us and came to Armenia on the spur of a moment decision. They had arrived in Yerevan the day before and joined us after having toured Khor Virab and Noravank in the morning. We took the Wings of Tatev ropeway, which is the world's longest (per the Guinness World Record book);
We visited the Church,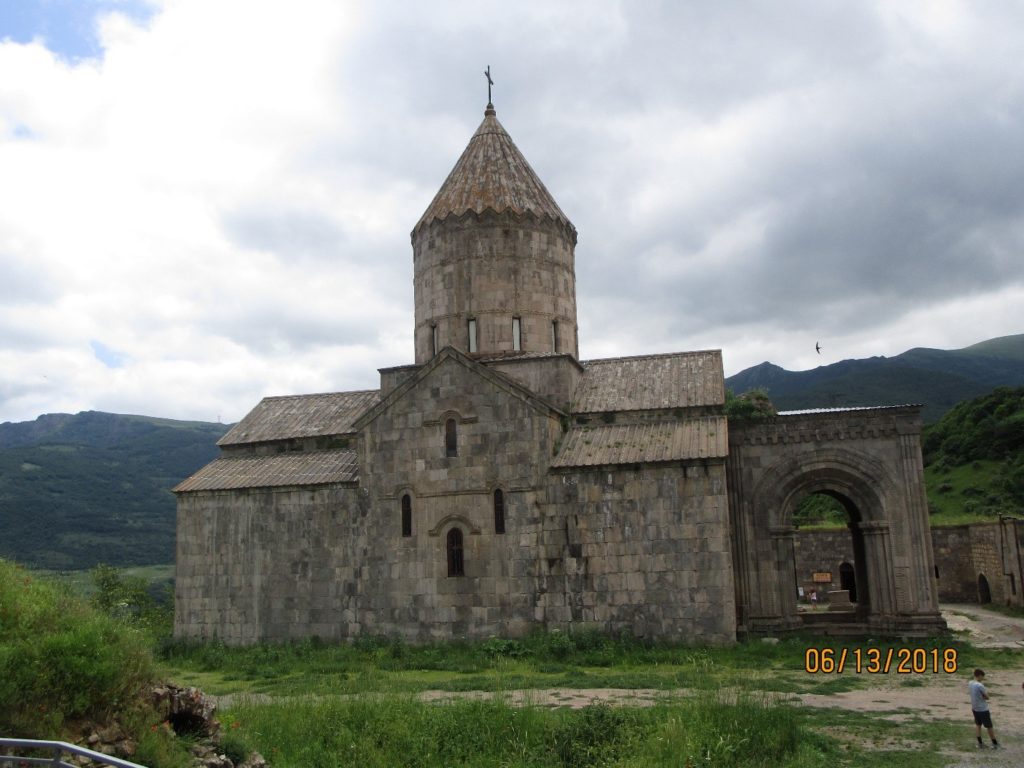 purchased souvenirs, stopped at the Tatev Information Cafe and enjoyed some of the owner's home-made drinks; after which we had lunch in a cozy home style restaurant.
We then headed to Yerevan via Zorats Karer, also called Karahunj.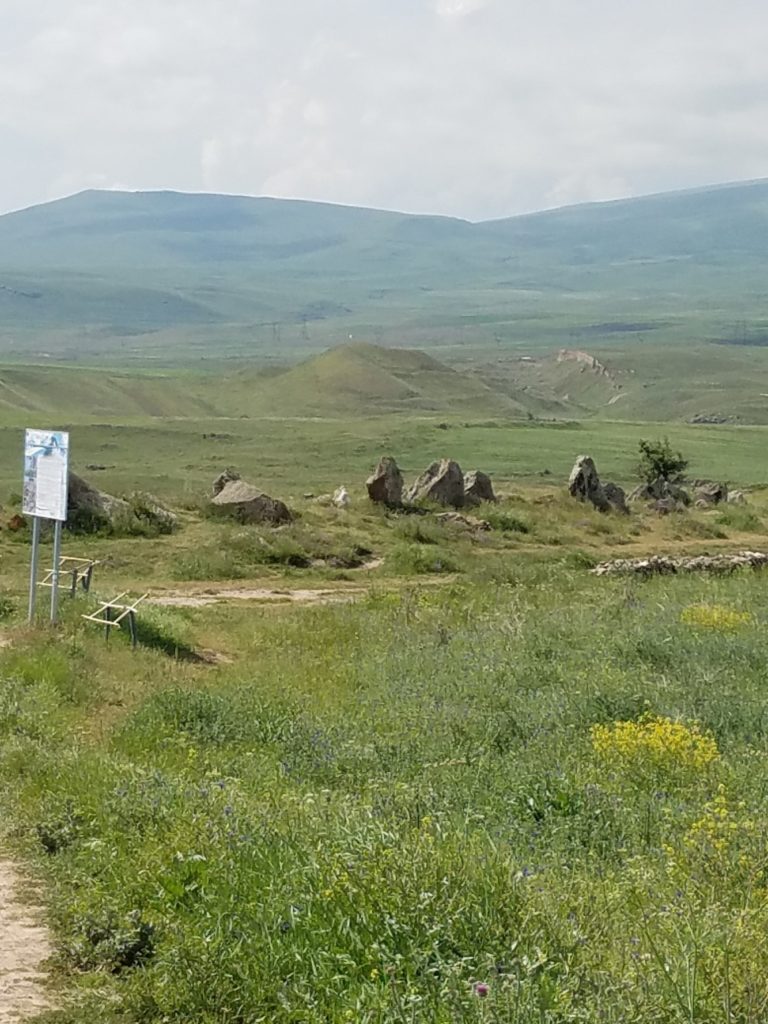 Karahunj is a prehistoric archaeological site near the town of Sisian in the Syunik Province, similar to Stonehenge in England. We stopped and enjoyed the Areni Winery
wine tasting and cheese. Our group of now 14 returned to Yerevan late that evening and settled into our quaint Diamond hotel.
Friday June 15, 2018 at noon we departed to Garni Temple; Our long-time friend, local guide Samson visited the temple and the grounds with us; then we drove to Keghart Monastery;
after visiting the churches including the acoustic second floor area of the mountain carved church, where we sang "Der Voghormia," we came down to enjoy the local musicians play and
visitors dance to the beautiful tunes.
.
Home made Kata by Keghart Monastery villagers  We made sure to purchase the Home-made "Kata" and the fruit  rolls (sweet sujukh),   sweets with walnuts and other delicious goodies. Our group spread out and we all bought items from each vendor to make sure we helped all of them, instead of all of us buying from only one or two of them.
The weather that day was perfect.  We returned to Garni and went down to the gorge with 4-wheel drive vehicles
to see the Symphony of Stones
Dancing at Garni Ishkhananotzfollowed with lunch at Garni Ishxananox 
for their famous fish. We watched lavash making and danced to beautiful music and spent several hours near the running river. The weather that day was perfect. We returned to Yerevan where some of us walked to the Cascade area to enjoy some late-night desserts and ice cream.
Sat. June 16, 2018 at 9:00 AM sharp our tour departed to Lori Marz. Our first stop was at Abaran where we visited the famous Gntuniq Bakery.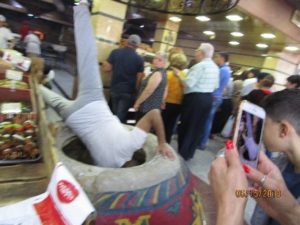 This is a must stop for all visitors! Freshly made lavash, breads, bonchigs and other pastries are specialties of this popular bakery.
Onwards to Tro's Monument; The grave site is about half a mile away from the main entrance which unfortunately was locked not allowing our tour van to enter.
Some of us who could not walk stayed and enjoyed the different art and statues at the newly built memorial park by the entrance.    The drive to Lori Marz is colorful and delightful. We made several stops to capture photographs with the beautiful poppies and lavenders; we had a coffee stop at Tufenkian Hotel in the Lori Region.
We continued to the rival Sanahin and Haghpat Monasteries and we took votes which we liked better… Haghpat won.
We had lunch at Hotel Qefo dining salon in Haghpat.
This was a very long day.  When we returned to Yerevan, some of the group was tired and turned in, but the rest of the group went to the cafés at the Opera House, where they enjoyed some delicious late-night snacks.
Sun. June 17, 2018 Today was at leisure. The Ladies went shopping, visited Vernissage again to place or pick up orders. They also went to beauty salons. Some of our group went to pay respect to their Grandparents grave sites, visit their childhood homes and others visited with friends.
Mon. June 18, 2018 at 9:00 AM we left the hotel. Our first stop was at the Alphabet Monuments
We drove up the highest mountain in Armenia – Aragatz Mountain; Visited Ambert Castle and the church,
went down via Puragan and the Observatory to Visit Oshagan, where we visited the tomb of St. Mesrob Mashdots,
the founder of the Armenian Alphabet.
We returned to Yerevan in the late afternoon.
At 5:00 PM we left to Abovian to visit St. Hovhanness Church (St. John The Baptist) 
Followed with dinner at the famous Dzirani Restaurant (reservations are a must). Beautiful garden bungalows of different sizes to suit every group's needs.
Dzirani Restaurant near Apovian.  Delicious food, excellent service, music and lovely landscaping. We had an exceptional evening and a superb experience.
Tue. June 19, 2018 at 10:00AM we left the hotel and after purchasing flowers, we first stopped and paid homage to our fallen Soldiers and Heroes at the Yeraplour Military Cemetery.
Yeraplour Monte Melkonian Graveside.
We visited Dzidzernagapert and the Monument with the eternal  flame.                           
Genocide Memorial at Dzidzernagapert.
We prayed for the souls of our 1.5 million Martyrs who were massacred in 1915 at the hands of the Ottoman Empire. We visited the Genocide Museum where most of the atrocities are documented, yet Turkey still denies shamelessly that a Genocide ever took place.
We next drove to the Mayr Hayastan monument overlooking the city of Yerevan with a breathtaking panoramic view of the City and the towering Mount Ararat in the background.
We returned to the Center of Yerevan with a stop at Madenataran and Grand Candy for the chocolates and bonchigs lovers.
Evening dinner reservations were at Havana Restaurant night club. There were several singers. A half hour show of an Indian group with colorful costumes, songs and dances. The musical show was called "The Power of Love". The music was too loud and our group was a bit disappointed. We left earlier than we expected.
Wed. June 20, 2018 at 9:00 AM we left to Lake Sevan. Upon arrival some of us climbed about 200 steps to visit the Sourp Arakelots and Sourp Asdvadzadzin Churches and enjoy the stunning
scenery of the lake and its surroundings.
Surp Arakelots and Surp Asdvadzadzin at Lake SevanOthers spent time at the restaurant/coffee shop for some ice coffee or soda and shopped at the souvenir stands. Some went to the lake side and dipped their feet in the clear cold Sevan Lake water.
I went to check if the deck for the lake boat tour was renovated. Unfortunately, renovations were not made yet. I promised the boat tour operators that I will make every effort to speak to authorities in charge of that area to help renovate. We left Lake Sevan and had a short stop for pictures at the statue of "Akh-Tamar."
The legend of Akhtamar is: An Armenian princess named Tamar lived on the Island of Akhtamar in Lake Van (Historic Armenia). She was in love with a commoner. This boy would swim from the mainland to the island each night, his way lit by a torch light Tamar lit for him. One day her father found out and was very upset. He took Tamar's torch and smashed it. That night, the boy in the middle of the lake had no light to guide him to know which direction to swim and he drowned. They say his dying cries of Akh, Tamar… (Oh, Tamar), can be heard to this day at night. This is where the name of the island comes from.
Next, we had a short stop at the road side Tzovakugh Bakery where they bake fresh lavash, breads, pastries and sweets. Onto Dilijan and to Hagahartsin Monastery, which was renovated a few years back with the generous donation of H. H. Dr. Sheikh Sultan Bin Mohamed Al Qasimi.
The larger buses are unable to come close to the Monastery, so they park about half a mile down and visitors must hike to get to the Monastery, but it is worth the effort, as it is a gorgeous three Church Monastery built between 10th and 13th centuries. We had Lunch at our favorite Getap Restaurant of course enjoyed their specialty, fried crisp smelt fish.
We also enjoyed "ser" with honey from a honey comb.
Before leaving Dilijan, We stopped at the Statue of Mher Mkrtchyan (Frunzik), Yevgeny Leonov and Vakhtang Kikabidze,
rubbed his nose for good luck, drank some cold water from the blblag; Then we drove onto Tufenkian Old Hotel complex to visit. The hotel is incorporated into an old-village complex with artisan shops, a restaurant and a small museum.
We then drove to Dzaghgatzor. Due to rain, the ski lift had closed early. We visited the Church, had to wait a few minutes as there was a wedding just finishing and captured some great photos of the newlyweds. Visited the Orbeli Brothers Museum.  Our dinner stop was at Hatsadoun restaurant in Dzaghgatzor for their famous potato kebabs and other delicious food.
The owners were so gracious and nice.  They remembered us from previous visits. The musician started playing and our dinner turned into a fun eating, singing and dancing party. We returned to our hotel late.
Thurs. June 21, 2018  – Day at leisure.  We walked around Northern Avenue,    enjoyed Cascade,
Northern Avenue and CascadeHrabarag, Swan Lake near the Opera, had coffee and refreshments at one of several Opera side cafes. We enjoyed and savored every moment.  Dinner was at Licher restaurant in Akunk Village near Aramous (famous for fish) where you can catch your own fish and have them cook it as you desire. BBQ, fried or boiled. In this garden setting they have different size cottages decorated with old village furnishings. The food was delicious, service a little slow due to very large area to cover. But it was a great farewell dinner for some of our group leaving the next day.
Fri. June 22, 2018   Lisa, Savannah, Seta, Elizabeth, Mary and "hars" Shake left Hayastan taking with them great memories and pledging to return soon. The rest of us will miss their fun company and good times we spent together. In the evening we were invited to an Armenian wedding where our friends the Vartanians were Godparents.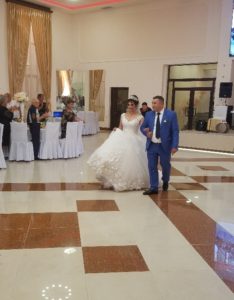 Traditional Armenian Wedding                    Serving Khorovadz Dance
June 23 and June 24 everyone had their own plans.
On June 25 2018 Lena, my sisters Shake and Annie, as well as Shahe, Yeran and Manoug also left Hayastan. The Diamond hotel lobby/bar suddenly went into its normal rendezvous place. For the past two weeks our family was ending each night regardless of late hours with delicious café glaciers or a beer and talking about the day and planning the next. We were a "happening" group. Now it was much quieter at the hotel.
June 25 through July 10 Shoushan and I spent a couple weeks relaxing, visiting friends and other daily activities. We watched late night World Cup games in the hotel lobby/bar. On July 01 a large group of Diaspora Armenian Studies teachers from different countries checked in to our hotel who were invited to participate in a month-long course of continuing education at The Pedagogical University on Alex Manoogian Street. Mr. and Mrs. Kevork and Liza Bedikian of Glendale were among the teachers with whom we spent some valuable time.
We enjoyed meeting teachers from Australia, Aleppo, Beirut and especially I met teachers from Damascus who currently teach at Miatzial Varjaran of Damascus, which was my childhood elementary school. I knew their parents, so we felt very close. We discussed life in Damascus now and remembered some old friends who still live there.
One of our local friends is building a summer home in a village thirty minutes away from Yerevan.
Summer house with beautiful scenery .
We drove there to see the progress and enjoy the fresh air. We spent several hours there, had a light lunch and fresh fruits, great talks and much laughter returned to Yerevan and to Shoushan's preferred Derian Restaurant.
On June 28, we were invited to attended a comedy show at Henrik Malyan Theater by William Saroyan, called "Fantasies in a Train."
I met a young artist Meruzhan Khachatryan
whose exclusive Armenian paintings are so beautiful and getting recognition both in Armenia and in the Diaspora.
I visited and inspected several hotels such as the Alexander on Apovian Blvd and The Royal Plaza Hotel on Saryan Street. I had some meetings with different tour companies and tourist service providers. Inspected randomly chosen restaurants and fast food eateries, such as Darrget on Arami Street (for beer, pizza and light food). Abu Hagop Restaurant on Kochar Street, Chez Viken, Lebanon Shawarma, Mer Taghe for lehmajoun and sou beurek, and Khengali all three places located on Tumanian, CEO3 smokeless BBQ Restaurant on Baghramian near Cascade, Martini Royal at Aznavour Square and many others. We attended the opening of Dragon Garden Chinese Restaurant on Arami Street. We had our farewell dinner at Caucasus Complex with some of our dearest friends whom we  spent time with for the past seven weeks for a fun night full of music, dancing and delicious Armenian food.
This is a huge restaurant entertainment complex with several buildings and venues located approximately about 20 minutes north of Yerevan City center. We had a fantastic time.
As you noticed I was eating in different category eateries.  First because food is delicious in Armenia, and we enjoyed trying different places. We also wanted to be able to meet different servers at restaurants, enjoy their hospitality and good prices and show our appreciation. The prices are reasonable at all the restaurants. I wanted to share all of these with my readers and suggest or recommend places to those that will be visiting Armenia. I even wrote reviews and comments in TripAdvisor.
On July 01, we were invited to the opening ceremony of a new tourist attraction called Tesaran, an outdoor gallery where several companies were displaying and selling their products in a garden setting with apricot trees and beautiful evening views of Yerevan. There was finger foods and drinks, and music and dance lessons by Garin Traditional Dance Group. The location is at Nork Marash which is very close to the H1 TV Studios. The program is due to run every night until the end of the summer. I met representatives from Z-Travel, who among other departments provide Medical Tourism packages which are becoming very popular in Armenia.
July 09, 2018, Shoushan and I met with Mr. Aramayis Grigorian a Deputy Minister of Diaspora of the "New Armenia" Government office.
As he was a new appointee to his post, I introduced to him the "Visit Armenia, It Is Beautiful" project, its purpose and accomplishments. We presented to him our slogan/logo. After he listened carefully to what our mission was, we took pictures and promised each other that we will work together towards advancement of tourism in Armenia.
I then went to the Ministry of Economic Development and met with the Deputy Director for the Tourism Affairs, Mr. Mekhag Apressian. He was running this office for the past several years replacing Mr. Ara Petrossian who was promoted to a different position in the Ministry. For years I have brought ideas and suggestions to Mr. Petrossian, such as improving touristic sites, building of new rest stops or toilets, improve signage, clean graffiti and other safety matters, of which some were accomplished, others still are in the works, as well as the importance of promoting our slogan/logo as a non- commercial brand. Unfortunately, I noticed Mr. Apressian did not show much interest in what I was presenting to him.  Two days later I learned he resigned from his post, this explained why he did not want to get involved, take notes during our meeting nor show interest. I will need to find the new person in charge so that I offer my professional ideas, suggestions and advice to improve the touristic sites both for local and foreign visitors.
As advocates of the "Visit Armenia, It Is Beautiful" project, our family enjoys traveling to Armenia every year to provide aid to several families throughout the country. Through our many years of travels, our local friends became our family and we anxiously wait to visit them every year. I encourage everyone to visit Armenia, not only to admire its beauty and history, but also because any little action can help generate the growth of the economy. Today, Armenia has a lot to offer as far as touristic attractions and I cannot wait to see where the country will be headed in the future. I would like to end this by saying    "Visit Armenia, It Is Beautiful"